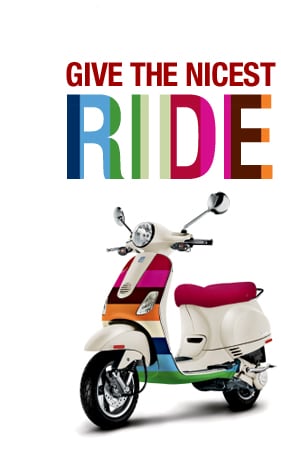 Vespa USA and clothing chain, The Gap, have announced a new special edition scooter. The "Crazy Stripe" scooter will be available for the holiday season. According to the press release:
This 2007 Limited Edition Vespa LX 50 in the "Crazy Stripe" (which looks more like "Pride Parade" to me) design represents a new spin on the classic Vespa scooter and continues to incorporate the core values of Vespa -- eco-friendly engineering, passion, individualism, and integrity -- in a stylish mode of transportation.

Beginning November 8, details on how to purchase this unique gift will be available exclusively online at The Gap. The 2007 Limited Edition Vespa LX 50 retails for $5,999 and will be available while supplies last or by special order until December 23, 2007.

Holiday shoppers in New York, San Francisco, Los Angeles, Chicago, and Las Vegas will have the opportunity to check out the 2007 Limited Edition Vespa LX 50 on display in select Gap stores from November 15 to December 3, 2007. Customers interested in purchasing this special Vespa LX 50 can visit http://www.gap.com/vespa for purchasing details. To find a local Vespa USA dealer and for complete Vespa LX 50 information, visit http://www.vespausa.com/.