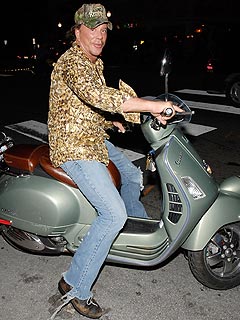 As we've all heard, Mickey Rourke was arrested for DUI this week while making an illegal U-turn on his Vespa. While drunk driving is a serious issue, I am more intrigued by some of the headlines and tones taken by the journalists that are covering the story. Apparently a DUI is not surprising, but the fact that a "tough guy" like Rourke rides a scooter is! Check out what Josh Hart from The National Ledger had to say about it:
How easy is it to make fun of Mickey Rourke now? While DUIs are no laughing matter it is hard to fathom getting one on a blue Vespa scooter in Florida but somehow the tough guy actor did just that. Is this the same brute from the film "Sin City?" Is this the rugged guy that couldn't handle a gun from Harley Davidson and the Marlboro Man?" Ah - so removed from Hollywood.

Isn't there a joke - "What do fat chicks and a moped have in common?" (Punch line - They are both fun to ride but you wouldn't want your friends to see you on one). Here come the e-mails - hey I didn't write it, some guy that is now on strike likely did
It's just another indication of some American's shallow minds to tie someone's virility and "toughness" to their vehicle. I am a fan of Rourke's work. I know nothing about his personal life, so I can't say anything about him as a person. But i can say that he must not think that his Vespa speaks badly of his manliness. It's probably a smart vehicle for him to have, especially on Miami Beach where the traffic *sucks* and scooters are a much better form of transport. And....you can't beat the weather!
Maybe we should embark on a campaign to debunk this myth....